Hobbyking launched the Bixler2
After the success achieved by his older brother, We believe that with this RC model, the hobbyking has another world winner in their hands.
Looking for the perfect rc  trainer or an FPV platform?
The Bixler 2 retains all of the great features of the original Bixler but offers more in terms of all round capability courtesy of larger dimensions and several design improvements.
The larger wing, flaps & much larger canopy area mean that the Bixler 2 is now so much more versatile in terms of FPV use and for new pilots and experienced pilots alike who are simply flying for fun, these new design features, combined with the larger, more efficient prop mean that the Bixler 2 offers longer flight times. However you decide to fly the Bixler 2, you can be assured that it is still just as easy and fun to fly as ever!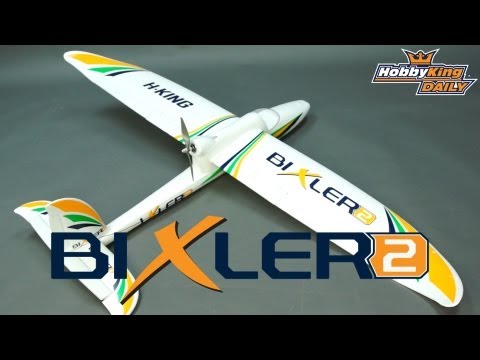 Features:
Easy and Fun to Fly
Easy, Fast and Simple Assembly
New Larger Canopy area to accomodate FPV equipment and/or larger Flight Lipo
Pre-Installed Servo's & Brushless Motor
Larger Wing Span for greater glide & Payload Carrying Capability
Plastic Landing Skid
New, lower kv Brushless Motor/larger Prop Combo for Greater Efficiency
Pre-Installed Optional Flaps Mounted on Plastic Hinges
Plug In Wings for Easy Transportation
Pre-Installed Round Pin Hinges on Rudder & Elevator
Specs:
Material: EPO Foam
Wingspan: 1500mm
Length: 963mm
ESC: 20A
Flying Weight: 760g
Motor: 2620-1300kv Brushless Outrunner
Prop: 7×5
Servo: 4 x 9g
4~5 Channel Transmitter and Receiver
1800mAh~2200mAh 3s Lipoly Battery