QRF400 RC Dirt Bike
Big size 1:4 scale R/C dirtbike with a powerful brushless inrunner.

The QRF400 is a big size R/C dirtbike with plenty of power and quality components. The cast alloy rear swingarm gives the bike almost 14mm of wheel travel, great for big air jumps, triples, whoops or rough ground! Trick style, large bore, upside-down front forks are designed to take big impact while keeping the bike stable.

video by HobbykingLive
The bike takes a 3,000 to 4,000mAh Lithium Polymer pack and requires a 60A+ car esc. Included is a powerful brushless inrunner motor which is more than enough to create huge rooster tails in the dirt and give the bike on-command wheelie power!
Careful attention has been paid to drivability; the riders weight has been lightened by 30% over other bikes of similar size, and the rear wheel has a spider-gear gyro inside to balance the bike at slower speeds.
This bike is capable of very high speed and with the rear chain and sproket unguarded like a real motocross bike, we strongly advise users to not allow children or pets near the bike while it is running.
Spec.
Length: 530mm
Weight: 2349g
Motor: 540 Brushless 2100kv
Wheel Front: 160mm Moto-X (Included)
Wheel Rear: 145mm Enduro
Steering Servo: Standard High-Torque (Included)
ESC: 60A+ Car ESC (100A Peak)
Contents.
QRF400 Moto-X Brushless Bike
540 Brushless Motor
Standard High-Torque Servo
Rider Figure
Decals
Pre Painted Shell
Required.
3000~4000mAh Lipoly
60A ESC
Radio system (Tx/Rx)
50 meters of dirt, and quick reflexes!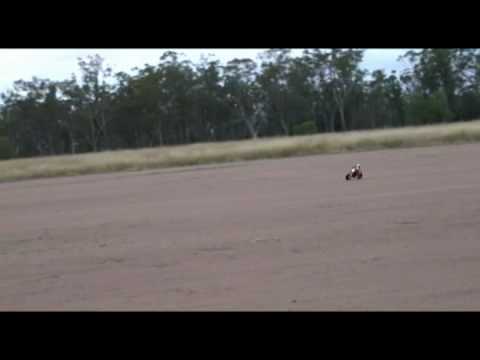 video by Blisoft